So You Want to Write a Novel Intensive • Course 97
8 - 15 June 2012, Camós, Spain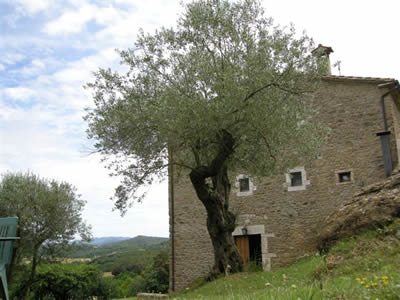 WORKSHOP VENUE
La Torre de Dalt
Mas la Torre
17834 Camós (Girona), Spain
Date: Friday, 8 June - Friday, 15 June 2012
Length of course: 7 days
Level: Beginners to published writers
Cost: £895
WHAT kind of novelist are you? What sort of book do you dream of writing? Have you found your subject matter? If you have not written before, how do you begin? This 7-day novel retreat held in collaboration with
7 Day Wonder will consist of morning workshops, one-to-one tutorials and readings that will give you the confidence to develop your manuscript. During this novel writing intensive, material normally covered in 6 weeks will be covered in 6 days. Sessions will include:
• six 2.5 hour morning workshops, covering topics including "Getting Started", "Characterisation", "Point of
View", "Setting", "Plotting" and "Editing"
• one-to-one tutorials to help students begin, shape or edit their material
• techniques to start writing/develop a novel already in progress
• advice on how to arrange and expand your material
• a chance to create new work that feeds into your manuscript
• the opportunity to have your writing read and discussed
• Open Mic nights for those who wish to have their work critiqued
The serene, inspirational surroundings offer time for writing, relaxation and recreation. There is a swimming pool on the grounds exclusively for the use of students. The first workshop will be on Saturday morning, 9 June.
LOCATION
The course will take place in the village of Camós in the Girona Province of Catalonia. The venue is La Torre de Dalt, a beautifully renovated 17th-century stone house surrounded by olive trees, pine and oak forests. Girona and the medieval town of Besalù are 20 minutes by car.
ACCOMMODATION
There are 11 en suite single rooms. Two double rooms (2 sharing, not en suite) will become available once all singles have been booked.
IF YOU BOOK EARLY . . .
If you book before Valentine's Day, the course fee will be £845 for being an "Early Bird". The course fee after 14 February 2012 will be £895.
FOOD
In addition to omnivores, 7 Day Wonder caters for vegetarians, vegans and those on dairy- and gluten-free diets. Please provide us with information on any special dietaryrequirements when booking. Lee Pennington of 7 Day Wonder is your excellent chef.
RECREATION
Afternoons are free. You can write, read, swim, relax, take a siesta or an inspiring walk to Banyoles Lake which is 45 minutes away.
LEVEL
The workshop will be open to anyone with a serious desire to write, from beginners to published novelists. You need not to have started a novel to enrol. All sessions will be conducted in a friendly, constructive atmosphere which will help you develop, plan and expand your manuscript.
WHAT YOU'LL NEED
Bound notebook, pen & a spare. Clipboard. Photocopies if reading on Open Mic nights.
IF YOU'RE BEEN TO LA TORRE BEFORE . . .
Students love La Torre and often come back. If you have done the novel workshop before, you are most welcome to use the week as a writing retreat. All group and private tutorials are voluntary and any writer wishing to use the time to write will be free to do so.
OPEN MIC NIGHTS
On most evenings there will be the opportunity to share prepared work. Word limit: 1300 per session. For best feedback, you will need to provide copies which will be returned to you.
VIDEOS FROM THE 2011 & 2010 COURSES IN SPAIN
Two short videos capture the relaxing, festive and hardworking atmosphere at "Writing Retreat in Spain 2011" and the 2010 novel course, also at La Torre, "Homage to Catalonia".
STUDENT TESTIMONIALS ON LA TORRE
S Several students spoke to camera about their stay at La Torre.
STAYING LONGER IN SPAIN?
Girona airport is the closest to the venue. In case you'd like to stay in Girona for a day before or after the course, we shot this footage in this beautiful old town.
SLIDE SHOW
La Torre de Dalt have their own very appealing slide show of the venue.
HOW TO GET THERE
Flights: RyanAir fly to Girona. Click here for the Ryanair link. Train: The Eurostar/TGV now runs to Figueres. A taxi or bus from Figueres can then be taken to Banyoles which is 4 kilometres from Camós.
TRANSPORT FROM GIRONA AIRPORT
Students will be responsible for transport to/from Camós. Bus: There is a bus from Girona Airport to Girona where you transfer for a bus to Banyoles. Taxi: A taxi costs approximately €40 from the airport to Camós. If several students are arriving around the same time, a taxi can be shared. Nearer the time, we will put students arriving on the same flight in touch with each other via the 7 Day Wonder website.
GLOBAL WARMING
7 Day Wonder aims to be a low-impact business in terms of the environment, recycling where possible, using local services and produce.
DO I NEED A VISA?
If you are a passport holder from a country outside the EU, you will need to check if a visa is necessary to enter Spain. Students are responsible for obtaining any visas, or other travel documents, necessary to enter the country. If this applies to you, click here for further information. You are advised to travel with a passport which has a minimum of 6 month left before its expiry.
ARRIVAL TIME
Officially, it's 5.00PM on Friday, 8 June. However, depending on the activities of the previous week, we may be able to get access earlier in the afternoon, but if you can, aim for arriving in Camós by 17.00. There will be no formal tuition on Friday evening; it is a time to socialise and break the ice before the first formal workshop on Saturday. If several students arrive on the same flight, they may share a cab from Girona. 7 Day Wonder use a reliable company that will be there to take you to the door.
WHAT IS INCLUDED
• 7 nights' accommodation in a single en suite room
• Breakfast, lunch and 3-course dinner, inclusive of a couple of glasses of wine each night
• Course fee for workshops, tutorials and Open Mic nights
NOT INCLUDED
• Flights or rail travel to/from Spain
• Ground travel within Spain
• Personal travel insurance
• Dinner on Tuesday, 12 June
LEAVING LA TORRE DE DALT
The course will end at approximately 11.00AM on Friday, 15 June so the house can be made ready for the next occupants.
TO BOOK
By post: Enrolment will be confirmed on receipt of your £350 deposit. Payment in full is due by 13 April. Download this booking form to complete and be returned with your cheque to be payable to "Creative Writing Courses" and sent to the address below. Bank transfer: To pay the deposit or full fee by bank transfer, ring 020 7263 0669. Online: To use your credit/debit card, you will need to pay the full amount. Course fee: £895. Click here for Terms & Conditions. You are strongly urged to carry travel insurance.
Click here for a printable 2-page brochure < Back to Course Dates

La Torre de Dalt