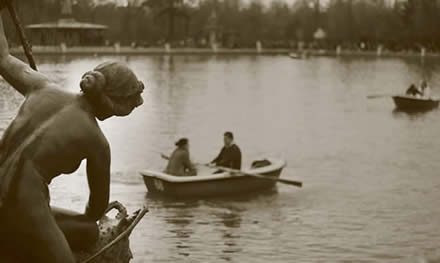 Finding the Inspiration to Write • Course 138
24 October 2018 @ Biblioteca Pública Eugenio Trías, Madrid, Spain
WORKSHOP VENUE
Biblioteca Pública Municipal Eugenio Trías
Casa de Fieras de El Retiro
Paseo Fernán Núñez, 24
28009 Madrid, Spain
Date: Wednesday, 24 October 2018
Time: 18.00 -20.30PM
Cost: Free. Sponsored by BPM Eugenio Trías, Communidad de Madrid
Hemingway had some excellent advice for writers—and for those who would like to write:
"All you have to do is write one true sentence. Write the truest sentence that you know . . .
and then go on from there."
This specially-designed workshop is part of the celebrations for the 150th anniversary of
the Retiro and will use inspiring examples to help you discover the stories within you.
The 2.5-hour workshop will be conducted in a friendly, constructive atmosphere and is
open to anyone with a desire to write. There will be an opportunity to have writing created
in the workshop read and discussed.
LEVEL
Beginners to experienced writers.
LANGUAGE
The workshops will be conducted in English. Students may create work in Spanish, but if
they would like tutor feedback, they will need to translate it aloud from their notebooks
when they share their work in class.
WRITING EXERCISES
The examples chosen as prompts can be written as fiction, non-fiction, memoir or poetry.
WHAT YOU'LL NEED
Bound notebook, pen & a spare. Clipboard (optional)
HOW TO GET THERE
The BPM Eugenio Trías is located in Retiro Park. The closest Metro stations are Calle de
Ibiza or Retiro. If coming from Retiro Metro, enter the gate opposite the Casa d'Arabe
which leads into Paseo Fernán Núñez. For a map, click here.
TO BOOK
Enrolment will be limited to 16 students. To ensure a place, please email the library.
PRIZE-WINNING STORY SET IN THE CASA DE FIERAS • 24 OCTOBER 2018
On the same day of the workshop, Anne will be reading her prize-winning short story, "The
House of Wild Beasts" at 17.30. The story is set during the Spanish Civil War and forms
part of her novel-in-progress, The Witness from Salamanca. BPM Eugenio Trías was
formerly part of the old Madrid Zoo.
WANT TO DISCOVER MORE ABOUT ANNE?
If you want to know more about Anne, click here. For student testimonials from previous
courses, click here.
Top photo: Retiro Lake Bottom photo: Entrance to the old Casa de Fieras