Storytelling for Fact or Fiction • Course 106
17 - 19 May 2013 @ Stonehill House, near Abingdon, Oxfordshire, UK
WORKSHOP VENUE
Stonehill House
near ABINGDON
Oxon OX14 4AA, UK
Date: Friday, 17 May - Sunday, 19 May 2013
Time: 10.30AM - 5.00PM (Saturday - Sunday only)
Cost: £245 (Single room, no supplement). Non-residential: £195
This new creative writing weekend will use examples from master storytellers as a springboard to create your own fiction or memoir. This workshop will be dedicated to studying in a non-academic way how to achieve this in your own work by using the stories of three great modern writers to inspire you.
Raymond Carver said, "Anyone who reads literature . . . sooner or later has to read Chekhov. I suppose he's the writer whose work I most admire." Chekhov's minimalism has influenced many contemporary writers, including Hemingway, Richard Ford and David Vann. They all learnt from Chekhov how much of a story can be told by omission, that much takes place beneath the surface of the text.
This weekend will include:
• four 2.5 hour writing sessions
• exercises to start writing or develop work-in progress
• a chance to initiate pieces that lead to more extended works of prose or poetry
• the opportunity to have writing done in the workshop read and discussed (voluntary)
• Open Mic evening session on Saturday night for those who wish to share work already written (voluntary)

The workshop will be conducted in a friendly, constructive atmosphere and is open to anyone with a desire to write. The serene, inspirational surroundings offer time for writing, relaxation and recreation.
LEVEL
Beginners to experienced writers. Students will be able to work at their own level.
LOCATION
Stonehill House is located on the edge of Abingdon. There are beautiful grounds and woodland and a swimming pool filtered by plants.
ACCOMMODATION
Rooms are single, decorated to a high standard. A few doubles are available for students wishing to share a room, price on request. Rooms are limited and early booking is strongly advised.
RECREATION
Walking or swimming in the new pool that uses plants to filter the water rather than chlorine.
INFORMATION ON STONEHILL HOUSE
To view Stonehill's website, please click here. To take a tour of Stonehill House with the artist, Andrew Logan, click here.
HOW TO GET THERE
Car: Just off the B4017, Drayton Road, south out of Abingdon. Rail: The nearest station is Didcot Parkway which is approximately 5 miles away. A taxi rank is outside Didcot station.
ARRIVAL
Residential course members can book in after 5.00PM on Friday. My course administrator will be on hand to welcome you. Our first dinner together will be served at 7.30PM. For a sample menu, click here.
There won't be any tuition on Friday night, just Stonehill House's fantastic food and the chance to get to know each other a little before the course kicks off on Saturday morning. I would encourage all non-residential members to join us for this meal as it's a relaxed way to be introduced to the course, myself and the other participants.
WHAT YOU'LL NEED
Bound notebook, pen & a spare. Clipboard (optional)
OPEN MIC NIGHT
If you wish to participate in the Open Mic session, please bring photocopies of work you wish to read as this will give you the best feedback. Word limit: 1300. (And don't worry, a microphone isn't involved.)
WHAT IS INCLUDED
• Residential students: course fee and 2 nights full board, inclusive of 2 breakfasts, 2 lunches & 2 dinners
• Non-residential students: course fee, 2 lunches & 2 dinners
WANT TO DISCOVER MORE ABOUT ANNE?
If you want to know more about Anne Aylor Creative Writing Courses, check out the "Spread the Word" link here. This page is an archive of previous events and collaborations. For comments by students, click here.
TO BOOK
By post: Enrolment will be confirmed on receipt of your £100 deposit. Download a postal booking form to complete and be returned with your cheque. Payment in full is due by 26 April. Bank transfer: Please ring 020 7263 0669 for account details. Online: To use your credit or debit card, you will need to pay the full amount. Please note that all bookings are to be done through Creative Writing Courses rather than Stonehill House. Course fee: £245 (single room), £195 (non-residential) To view Terms & Conditions, click here.
PAY ONLINE
Choose the option you want, then click the button to pay online with PayPal.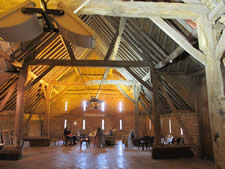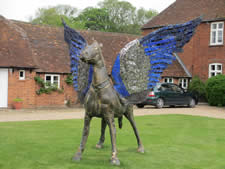 Taking a tea break @ Stonehill barn Pegasus in forecourt of Stonehill House