Write Now! in Syros • Course 136
October 2019, Hermoupolis, Isle of Syros, Greece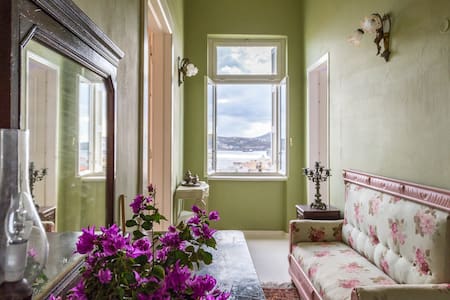 WORKSHOP VENUE
Villa Maria
Hydras Street, 42
84100 Hermoupolis, Greece
Date: October 2019
Length of course: 7 days
Level: Beginners to published writers
Cost (tuition & board): 2017 price: 1250 Euros. Shared room: 2017 price: 1050 Euros
To bring a non-participating friend/partner: 2017 price: 650 Euros
Co-tutors: Anne Aylor & Elise Valmorbida
Syros is in the beautiful Cyclades group of islands. Not to be confused with Skyros. It is a secret haven of culture, indulgence, marble streets and life beyond tourism. Hermoupolis is the city of Hermes—god of literature, writing . . . and cattle rustling! This 7-day retreat will give you the confidence to develop your writing and create new work. Sessions will be conducted in English and will include:
6 days of morning workshops with two teachers
one-to-one tutorials in the afternoons
open mic nights
plenty of teacher contact time
delicious, fresh healthy local food
private accommodation or shared rooms
WHO CAN COME?
Short-story writers, creative non-fiction writers, playwrights and poets are welcome to hone their skills or use the week as a retreat.
LEVEL
The workshops will be open to anyone with a serious desire to write, from beginners to published writers. All sessions will be conducted in a friendly, constructive atmosphere which will help you develop, plan and expand your work.
LOCATION
In the heart of the historic town, Villa Maria is a 19th-century townhouse with marble bathrooms, antiques and newly-restored interiors. The serene, inspirational surroundings offer time for writing, relaxation and recreation.
ACCOMMODATION
There are 2 single rooms, 2 double rooms suitable for one student or a couple, 2 studios suitable for one student or a couple, 1 large double room suitable for 2 students sharing, and 1 split-level studio suitable for 2 students sharing. Most bedrooms have en suite bathrooms. To view the accommodation in Villa Maria, click here.
ROOM CHOICE
Rooms are allocated on a first-come, first-served basis. Pricing is standard across all accommodation, so it's luck of the draw if you get a sea view or en-suite. If you share accommodation with another student, you each pay a little less.
TEACHING
You'll be in the capable hands of two published writers who love teaching and do it well. To find out what students say about Anne, click here. For info about Elise, click here.
FOOD
Healthy eating for all tastes, with vegetarian options, freshly prepared by our excellent chef and host, Elisa Mavropoulou. Please provide us with information on any special dietary requirements when booking.
RECREATION
Afternoons are free. You can write, book a tutorial, read, swim, relax, take a siesta or an inspiring walk through the old town.
ACCESSIBILITY
Hermopoulis is built on a steep hill facing the harbour. The walk from the ferry includes approximately 100 steps up to Villa Maria. Porters will carry your luggage up on arrival, and down on departure. Because access to the house is via pedestrian uphill streets with steps, this retreat is not suitable with people with walking disabilities.
SLIDE SHOW
To give you a sense of what Hermoupolis and Villa Maria are like, click here for a short slideshow.
DO YOU NEED A VISA?
If you are a passport holder from a country outside the EU, you will need to check if a visa is necessary to enter Greece. Students are responsible for obtaining any visas, or other travel documents, necessary to enter the country. You are advised to travel with a passport which has a minimum of 6 month left before its expiry.
HOW TO GET THERE • BY AIR
You can fly into Mykonos or Athens. If you arrive in Athens, there are direct flights from there to Syros with Sky Express.
HOW TO GET THERE • BY SEA | MYKONOS OR ATHENS
The Autumn ferry timetables are not yet published. Details in the New Year.
Please note Saturday is the only day of the week there are no evening ferries from Piraeus to Syros.
TRANSPORT FROM ATHENS AIRPORT
Bus: There is an X96 direct bus from the airport to Piraeus every 20-30 minutes.
The length of journey is approximately 1 hour and costs 6 Euros. Taxi: A taxi to Piraeus costs around 50 Euros and takes 30-45 minutes, depending on traffic. If several students are arriving around the same time in Athens, a taxi can be shared. Nearer the time, we will put students arriving on the same flight in touch with each other.
ARRIVAL TIME
Officially, it's 5.00PM on Saturday.There will be no formal tuition on Saturday evening; it is a time to socialise and break the ice—with food and drink—before the first workshop starts on Sunday.
WHAT IS INCLUDED
7 nights' accommodation

7 breakfasts, 6 lunches & 5 dinners, inclusive of table wine

course fee for workshops, tutorials and open mic nights
NOT INCLUDED
ground/sea/air travel
personal travel insurance
DIY dinner on Wednesday, & Fiesta Friday
LEAVING VILLA MARIA
The course will end at by 11.00AM to prepare the villa for next week's guests.
TO BOOK
By post: Enrolment will be confirmed on receipt of your course fee. Online: Please click the button below to pay now. If you secure your place with a deposit, the balance must be paid by 31 July 2019. You are strongly urged to carry travel insurance.
Please do not book your flights until you have received an email confirmation to do so.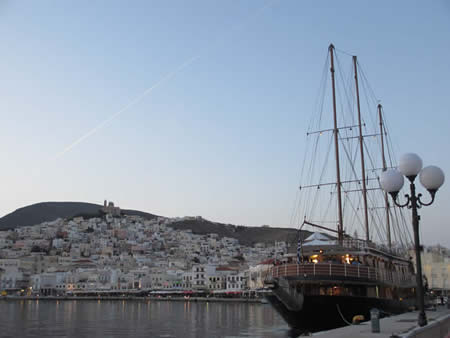 The port at Hermoupolis, Isle of Syros